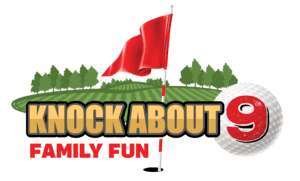 The KnockAbout 9 all-weather course at Hounslow Golf Park
It's for those who have never held a golf club before
It's for novices
It's for seasoned golfers who need practise
It's for families and friends looking for fun
It's casual, it's relaxed
Just bring yourself and a ball (or buy one on site)
We'll lend you a club and a putter
There's no stuffy dress code
There's no hole longer than 100 yards
It's fun, it's exciting
It's a great day out
The course is designed especially for total beginners and for those who would like to improve
The greens are Astro Turf so weather never stops play
The ball thinks it's on real grass. It rolls, spins & stops as usual
The Astro is environmentally friendly as it doesn't need watering
For those in the know – this also means the greens play the same irrespective of the time of day or season of the year
Here's what you need to know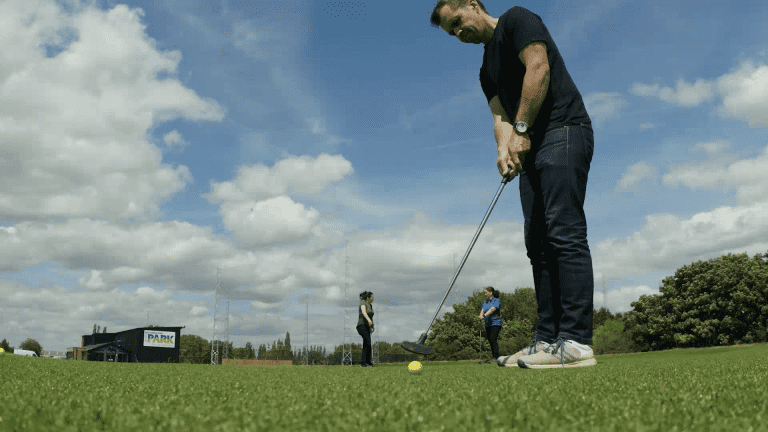 No experience necessary
Easy online booking on your phone, tablet or computer
A club and a putter are provided for each player
Bring a golf ball – or buy one at the course
There's no stuffy dress code

 

Wear comfortable, flat soled shoes

 

Book in groups of up to 5 people
Each tee off time you book lasts one hour so there's no rush
Hounslow Golf Park is a cash free venue
Hounslow Golf Park only accepts payment by debit and credit cards or other electronic payment means (Apple Pay)
Dogs are not allowed on the KnockAbout 9 course
Dogs are welcome on the Volcano View café terrace
Buggies and pushchairs are welcome if you're happy on grass
There's no age restriction but under 14s must be supervised by an adult
How to book the KnockAbout 9 course at Hounslow Golf Park
Book your preferred day and time in advance on our online booking site
Please note that there is no facility to book at the venue
Maximum number of people per tee off is 5
Your booked slot is for one hour
Would you like to learn golf?
Coming Autumn 2022
Hounslow Golf Park will offer fun one-hour group golf experiences to try our golf for the first time!
No commitment, no stuffy dress rules, no experience needed. Our qualified golf coaches will guide you through the basics. Start on the Games Range and learn how to hold the club. Progress to hitting the ball – or not!
Bring your mates and have some fun. It's sociable, it's enjoyable, it's a laugh! It's the perfect way to "Get into Golf" at Hounslow Golf Park.
Can't wait to see you!
Both the tees and greens are AstroTurf so won't be affected by weather conditions.
Between 60-90 minutes dependant on skill level and peak/off peak times.
You're more than welcome to bring your own clubs with you but we will also have clubs and balls available for use.
The KnockAbout 9 is a 9 hole par 3 course with no hole more than 100 yards. It is for both beginners who have never played before and experienced golfers looking to perfect their short-game.
Hounslow and Lobb & Partners
Hounslow Golf Park's KnockAbout 9 course designed by Lobb & Partners and is suitable for all levels of golfing ability
It's perfect if you have "never held a club before" as well as ideal for the more seasoned golfers looking for somewhere to practise.
The pricing structure means its affordable for families and groups of friends.
It's a non-demanding layout of 9 holes.
No hole is more than 100 yards making a hole in one an achievable aim.
The greens are made out of Astro Turf so you get year round quality experience. The Astro Turf is environmentally friendly as it does not need watering – sand and a brush do the job. The Astro Turf behaves like real grass so you can easily transfer your skills to another course. Have you tried the courses at Horton Park Golf or Chichester Golf or – for the more experienced – Hill Barn Golf Course?